Tips to Help You Prepare for Your Backyard Pool & Landscaping Project
Building an in-ground pool in your backyard promises endless hours of relaxation outdoors. However, the planning stage of this project can be far from relaxing.
There's a lot to consider when starting a big landscaping renovation project. To help you prepare for your pool building, here are the top industry tips from local pool and landscaping companies.
Is Your Backyard Suited for A Pool?
Before building a pool in your backyard, check your local building code regulations and zoning restrictions. Zoning refers to guidelines for fencing, barriers, pool depth requirements for diving boards, the proximity to utility lines, and setbacks.
You might need to apply for a permit before you can start building. You should also consider the amount of space you have and the landscape in your backyard.
Here are the standard questions you should be asking yourself before starting this project:
What type of terrain do you have?
Is the yard level or sloped?
What is the soil type?
How easy will it be for pool builders to access your yard with construction equipment?
Pool builders will take these factors into consideration when giving you an estimate.
Devi$ing A Budget
The most important thing you must be aware of when building a pool is your budget.
Create a realistic budget with a bit of room to cover any additional unforeseen costs. If you need financing for your pool, make sure you finalize this before you hire a contractor.
While cheaper estimates may be attractive at first glance, it's important to understand what quality of work could come from it. Cheaper doesn't translate to better and could actually cause you more financial headache in the future with added costs through repairs, maintenance, upgrades, and could likely devalue your home if not done properly. When building a backyard pool, always prioritize quality.
Lastly, don't expect this project to be complete overnight. Depending on the pool and landscaping design, your project could take 3 to 12 weeks from start to finish.
Questions You Need to Ask Your Contractor
There are many questions you should be asking pool designers before hiring them.
Of this hefty list, these are the 4 most important questions:
Are they insured, and can they show proof?
Do they subcontract work or use their own staff?
Do they have design experience?
Do they have customers you can speak to and visit to see their work?
Have an Idea of What You Want Before You Get an Estimate
Why do you want a pool? Do you want a pool for fitness? Play? Entertaining? Relaxation?
Brainstorm the main reasons why you want a pool and what it will be used for. Also create three list: wants, needs, and must-have features. Then create a list of what you want in order of priority.
This will help give you and your pool builders a clear vision of the final product to make planning easier.
Your pool builders can give you a better estimate of the inground pool cost with this information. And you can decide which features are worth keeping to stay within budget.
What Are the Most Important Features?
That's easy – safety is the most important pool feature. With a fence, gate, and/or a swimming pool safety cover, you can keep children, pets, and wildlife safe from falling in your pool.
Other important features pool owners look for include:
Low-maintenance—i.e. automatic cleaning equipment and saltwater systems;
Energy-efficient heaters, lighting, and equipment;
Water features;
Pool lighting;
Ladders, slides, and diving boards;
Pool decks;
Patios; and,
Landscaping.
What Kind of Swimming Pool Do You Really Want?
The size, shape, and type of pool you choose will depend on your budget, backyard space, desired landscape design, and how you plan to use your pool.
You may want your pool to take up your entire yard, or you may want to leave enough space for grass, landscaping, and a patio.
Swim Spas
Ideal for smaller backyards, these small pools can be as small as 10 feet long. Although small in size, these pools produce a current so you can swim in place.
Lap Pools
These narrow rectangular pools need more backyard space since they are used for training and exercise. These pools can go up to 25 metres.
Recreational Pools
Known as the traditional backyard pool, recreational pools have a shallow end and a deep end (9 to 11 feet) for diving. While usually rectangular, these pools also come in freeform shapes and various sizes to suit different backyard spaces.
Saltwater Pools
If you don't want to buy and store chlorine for the rest of your life, consider installing a saltwater system in your pool instead.
Saltwater generators create chlorine from the salt you add to the water to sanitize your pool. But this chlorine is gentle on your hair, skin, and eyes, and doesn't have a strong smell.
Know the Difference Between Vinyl, Concrete, And Fibreglass
These days, most pools are built of concrete, vinyl, or fibreglass.
Concrete Pools
Concrete pools are also called wet shotcrete or Gunite, depending on its mix and placement method.
Concrete pools are made of poured concrete or concrete blocks, with a plaster finish troweled over the surfaces.
To install a shotcrete pool, pool builders will excavate a hole. Then they will shoot a concrete mix with a pneumatic applicator around a grid of woven steel rebar and against the walls and base of the excavation hole. Several layers of concrete are applied until the pool structure reaches the desired thickness.
Vinyl Pools
Vinyl is the cheapest pool option, but you will need to replace the vinyl liner when it wears out. To build a vinyl pool, pool builders will build a wooden, plastic, or metal frame in the excavated hole. These frames are usually set in a concrete footing.
Next, a pool builder will install wall panels are on the frame, plumbing, and a sand base.
Then they will install a vinyl liner to the top of the frame, and backfill the rest of the excavated hole around the pool.
Lastly, they will install masonry coping over the top of the pool wall.
Fibreglass Pools
Fibreglass pools are pre-moulded in various shapes and sizes. These pool moulds come with benches, steps, and swim-outs.
To install a fibreglass pool, pool builders will excavate a hole in your backyard, install plumbing, and lay a sand base. Then they will lower the fibreglass pool into the hole and level it.
The pool must be filled with water while backfilling the hole with granular 3/8″ stone base to prevent the pool walls from bowing—bending inwards. Sand is not typically used as a filler since it tends to settle and cause issues with decks in colder climates.
What About Aftercare and Pool Maintenance?
Once your pool is open for business, you will need to clean debris from the water's surface daily and clean your pool sides and filter regularly. Pool vacuums are available to clean the walls and floors of a pool.
You should also test the water's chemical levels every week and balance the water when needed. This will require a pool testing kit and chemicals to balance the water. Depending on the type of pool you have, you may need to add chlorine or salt.
Due to our climate, swimming pools in Ottawa also need to be closed for the fall and winter months. So you have to set aside time and/or money for a thorough cleaning and preparation during the pool opening and pool closing seasons.
To close your pool in the fall, you will need to thoroughly clean the pool, balance the water, add winterizing chemicals, lower the pool water to below the skimmer, blow out the pool lines, replace the plugs with winterizing plugs, and store the equipment for the winter. A pool cover will help protect your pool water from dirt and debris in the off-season.
To open your pool in the spring, you will need to replace the winterizing plugs, reinstall the pool equipment, raise the water level, clean the pool, shock the water, balance the water, and run your pump for 24 hours.
There's a lot that goes into planning, building, and maintaining a pool. But you can design a pool that suits your backyard and landscape vision with the help of Ottawa landscapers.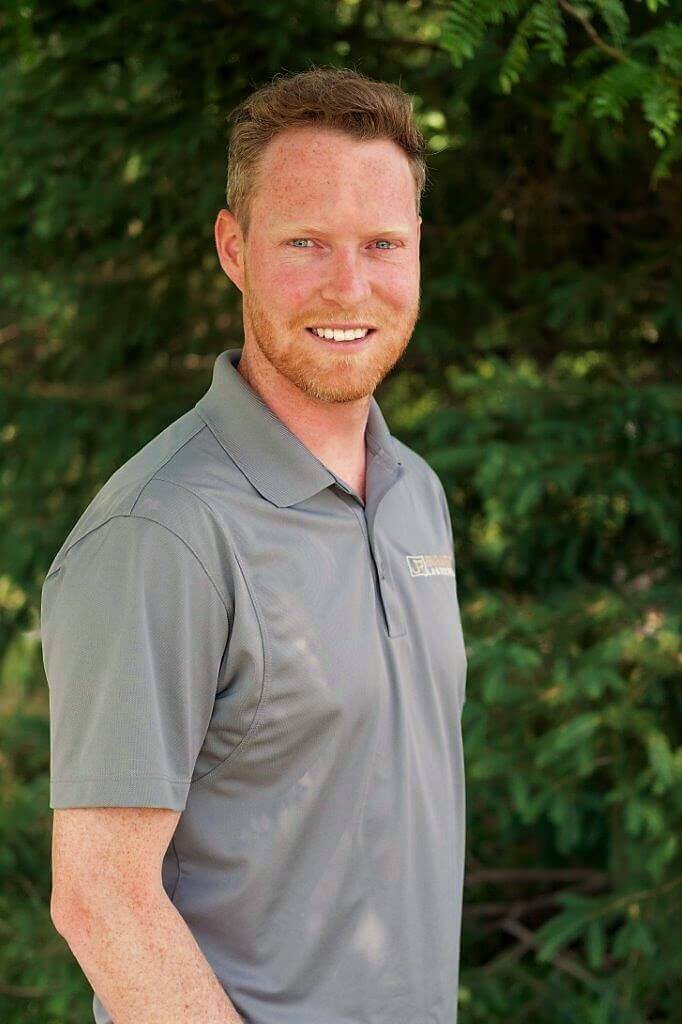 In 2008, following a successful career as a member of the Canadian Alpine Ski Team, Jonathan Robert stepped into the landscaping industry, starting Jonathan Robert Landscapes. In the years since he's quickly earned a reputation for high-quality work with creative designs and has been recognized in several industry-leading publications. Jonathan's always got an eye on innovation and is always looking ahead to see what's on the horizon in the industry. He works hard to stay on top of current guidelines, practices, and regulations. Jonathan is a member of Landscape Ontario, the International Concrete Paving Industry (ICPI), Canadian Nursery Landscape Association (CNLA), and is a Tech-Pro contractor.