A Landscapers' Guide to Helping You Choose Environmentally Sustainable Building Materials
Planning a new patio or deck? Whether you're remodelling your backyard landscape from scratch or upgrading to more eco-friendly solutions for your patio and deck, this one is for you!
We've created a guide to help you make the best, most sustainable choices when it comes to your landscaping options. With these sustainable materials and the help of experienced landscaping companies, you can get the most out of your backyard and reduce negative impacts on the environment.
Why Going Green is Good For Your Patio
While more expensive, there are many long-term benefits to having a green patio. Here are just a few:
Reduce the amount of waste entering landfills by using recycled materials;
Reduce your carbon footprint;
Be kinder to the environment;
Better for you and your family's health when using non-toxic materials;
Boost comfort and satisfaction with an attractive patio that is better for the environment; and
Boost your home value by upgrading the appearance and appeal of your backyard—green patios are a selling point!
Permeable Patio Paving Materials
Concrete pavers are some of the most environmentally sustainable building materials. Instead of relying on trees or plastic for decking, you can have an attractive, affordable, durable, and low-maintenance concrete patio.
But to make sure your patio is a green patio, you should consider using permeable concrete that allows for proper drainage and prevents stormwater runoff.
Permeable pavers allow water to penetrate the pavement instead of pool up and create stormwater runoff that can contribute to erosion and contaminate your neighbour's yard and the surrounding ecosystems.
Here are some of the popular types of eco-friendly patio pavers available today.
Porous Concrete
Porous concrete allows up to 5 gallons of water to soak into a square foot per minute. So instead of runoff washing off your patio, down your lawn, and into neighbouring eco-systems, any rain or meltwater will filter through the porous concrete and the ground below.
Permeable Pavers
Permeable pavers are very popular and are ideal for keeping water away from city drains and your property. These pavers have gaps between them for water to soak into. These gaps can be filled with gravel, grass, or ground cover. Concrete grids allow for proper drainage into the ground and prevent erosion.
Interlocking Stone
Interlocking pavers provide spaces between pavers for water to penetrate instead of having a solid patio or deck surface that pools up water. These are an attractive and popular eco-friendly patio option.
Sustainable Materials For Your Deck
While your first thought for building a deck might be to use hardwood decking materials, there are actually more sustainable green building materials for decks.
Natural Wood
When harvested responsibly, natural wood is a sustainable material. Natural wood is also easily recyclable.
If choosing natural wood for your deck, consider using reclaimed wood, or wood that has been harvested through responsible forestry practices. Look for certified wood, such as Forest Stewardship Council (FSC)-certified wood.
Also opt for durable, rot-resistant softwoods such as cedar, redwood, and bamboo. Softwood trees mature at a much faster rate than hardwood trees, so they are considered a renewable resource. Since softwoods don't absorb much moisture, they are also more resistant to warping compared to hardwood species.
Pressure-Treated Lumber
The chemicals used for pressure-treated wood prevent rot, mold, and insects such as termites. While some chemicals used in the past were highly toxic, there are somewhat safer treatments available now, such as copper azone (CA), amine copper quat (ACQ), and borate.
Borate is the most eco-friendly wood treatment option since it is non-toxic. However, borate is water-soluble, so any wood decking with borate cannot be in contact with the ground or near siding where rainwater and debris can accumulate.
Composite Wood
This durable, low-maintenance material is made from recycled plastics, such as grocery bags, and wood fibre waste. Since it doesn't rely on new trees and it diverts waste from entering landfills, it is a green patio option.
While durable and stain-resistant, composite wood can warp and weather over time. But it does have a lifespan of around 20 years or longer when properly installed. The only downside to composite wood is that it is difficult to recycle at the end of its lifetime.
Plastic Lumber (HDPE Recycled Plastic Decks)
Plastic lumber is made from recycled plastic or High-Density Polyethylene Resin (HDPR). HDPR is the same type of plastic used to make plastic milk jugs, and it is made from plastic waste.
Plastic lumber decking can be designed to look like natural wood. It is available in fade-resistant colours and textures. However, it is not as strong as wood, so it should only be used for decking materials, and not for load-bearing uses. It is also susceptible to expanding and contracting with temperature fluctuations, so it is more likely to warp compared to other decking materials.
Aluminum
Aluminum is a low-maintenance material that can be made from recycled products and recycled at the end of its lifetime. And unlike wood decks, no coatings or sealants are required for aluminum decks.
Aluminum decks can be designed to look like natural wood, and come in interlocking deck boards to create a water-resistant barrier. Aluminum also disperses heat, so even when in direct sunlight, it will be cool to the touch.
Sustainable Natural Stains and Preservatives
To maintain natural wood or pressure-treated wood decks, look for natural stains and finishes, such as low-VOC and low-toxic finishes. With proper care, you can keep your wood deck looking great for years to come.
Eco-Friendly Patio Lighting
If you're opting for an eco-friendly patio and backyard landscape, don't forget to consider eco-friendly lighting. Solar and LED lighting are the most environmentally-friendly patio lighting solutions.
Solar Lighting
Solar lights don't use any electricity, just the sun's natural solar energy. Solar lighting comes in a variety of styles, including lanterns, globes, and spotlights. These lights are very easy to install since no electrical wiring is needed. Just be sure to keep the solar panel exposed to sunlight, not hidden in the shade all day.
LED Lighting
LED light bulbs are available for both solar light fixtures and electrical lighting. LED lights use much less energy than traditional light bulbs. And they also come in a variety of colours and styles, such as pendants, lanterns, spotlights, sconces, step lights, and string lights.
Eco-Friendly Outdoor Patio Furniture
While you're being environmentally conscious and responsible, you may as well opt for eco-friendly patio furniture to enjoy with your patio. If you want wood patio furniture, consider used furniture or certified wood sourced from responsible forestry practices.
Teak wood is popular for outdoor patio furniture because it is durable and weather-resistant. However, this tree takes many years to mature. Bamboo, on the other hand, matures much quicker, making it a more renewable and eco-friendly material for patio furniture. If you don't want wood, consider patio furniture made from recycled materials, such as recycled plastics.
To keep your patio furniture looking great for years to come—so you don't have to replace it—store your furniture in a warm, dry place for winter. And seal/refinish accordingly.
Taking steps to be more environmentally responsible can start in your backyard. So consider this guide for sustainable patios and decks, and contact your local landscapers for help making your backyard comfortable and attractive while keeping the environment in mind.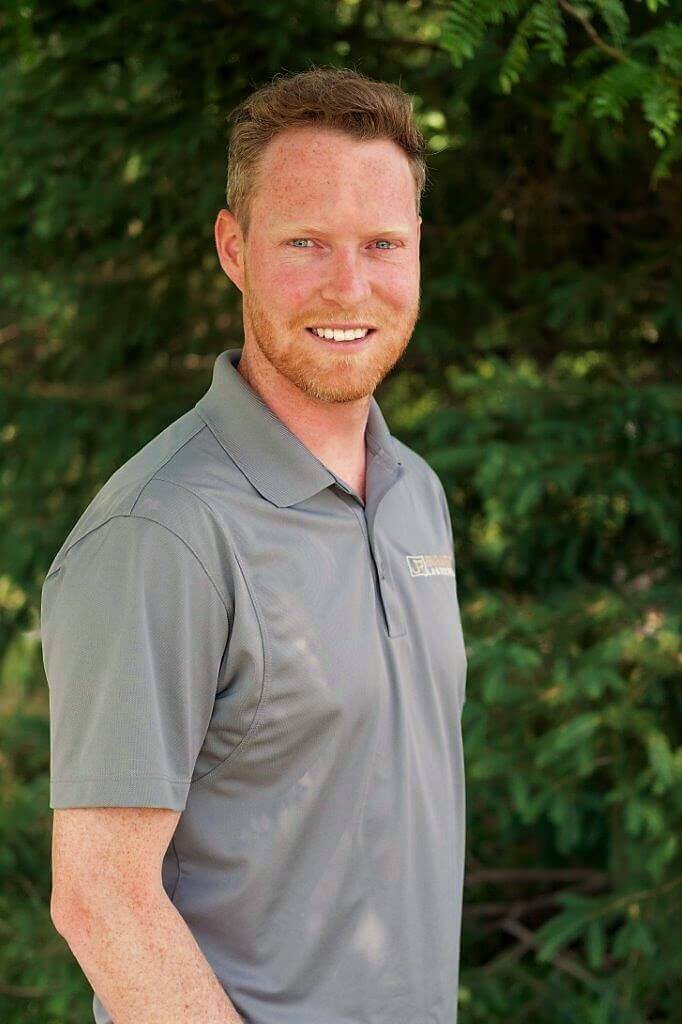 In 2008, following a successful career as a member of the Canadian Alpine Ski Team, Jonathan Robert stepped into the landscaping industry, starting Jonathan Robert Landscapes. In the years since he's quickly earned a reputation for high-quality work with creative designs and has been recognized in several industry-leading publications. Jonathan's always got an eye on innovation and is always looking ahead to see what's on the horizon in the industry. He works hard to stay on top of current guidelines, practices, and regulations. Jonathan is a member of Landscape Ontario, the International Concrete Paving Industry (ICPI), Canadian Nursery Landscape Association (CNLA), and is a Tech-Pro contractor.