Backyard Upgrade Ideas to Inspire You When Planning Your Dream Landscaping Project
As the snow starts to melt with warm weather soon to follow, you may find yourself yearning to spend more time outdoors. And what better way to get more fresh air than to give your backyard a complete luxury makeover?
With a few luxury upgrades in your backyard, you can make the most of your time outdoors with friends and family, or simply relax in style with your favourite drink and good book.
For inspiration to help you get started on planning your dream landscaping project, here are our recommendations for some of the top luxury backyard upgrades.
Luxury Landscaping Ideas for Spring
Outdoor Kitchen and Dining Area
An outdoor dining area provides a comfortable spot to eat outdoors with family and friends. Look to your surroundings for inspiration on your outdoor dining space décor.
With an outdoor kitchen nearby, hosting outdoor dinner parties could never be easier since you can prep, grill, cook, and serve food without having to step foot back indoors.
Consider adding a bar too, to spend even more time outdoors and have the ultimate fun – and convenient – gathering spot in the comfort of your own backyard.
Gym
When the beautiful weather finally arrives, you won't want to be cooped up indoors when exercising. So, why not bring your gym outdoors to enjoy the fresh air and breeze when working out?
Whether it's stocked with state-of-the-art equipment or just basic outdoor gym, having a dedicated area for exercise in your backyard – or underneath a gazebo – will help you to make the most of the warm spring and summer weather.
Water Features
Water features, such as ponds, fountains, and waterfalls, are elegant additions to backyards that help create a relaxing, tranquil atmosphere. The sound of running water is calming, providing a peaceful backdrop or spot for reflection in your backyard escape.
Pergola
For shade and beauty, consider adding a pergola to your backyard. Pergolas are beautiful on their own, but they are also a perfect spot for growing vines, such as flowering vines, which will add a pop of colour and a sweet-smelling fragrance to your pergola seating area.
Gazebo
A well-designed gazebo can offer an attractive structure in your backyard where you can place outdoor furniture to use as an outdoor living room. It also provides shade so you can have some relief from the sun on hot summer days.
Outdoor Firepit
Sitting around a fire under the starry sky is a favourite pastime during summer nights. And a modern outdoor firepit is a must-have for nights spent outside in your backyard.
Plus, it's a great spot to gather your friends and family. So, consider placing one in the centre of your seating area or poolside. It's also a welcome addition on chilly nights, providing extra warmth so you can still make the most of your time outdoors even when the seasons change.
Inground Pool and/or Spa
Installing an inground pool is the number one luxury upgrade that will improve your backyard enjoyment tenfold. And if you add a spa to the mix, you're in for an extra treat.
Not only can you exercise and cool off on hot summer days and nights in a luxury inground swimming pool, but a pool will also improve the overall appearance of your backyard along with your home's value.
And with a spa, you can relax and unwind after a long day or vigorous workout, and enjoy the many benefits of hydrotherapy.
Outdoor Shower
An outdoor shower is a convenient way to shower before and after swimming in your pool. And it's especially convenient for guests to use when hosting pool parties.
Showering off contaminants before jumping in your pool or spa helps keep the swimming water cleaner, which means you won't have to use as much pool chemicals to maintain your pool and spa water chemistry. And it's nice to shower after a soak or swim to get the chlorine off your skin and hair.
Lighting
Lighting is key for creating a luxury atmosphere outdoors at night. Not only does lighting along paths and steps provide clear visibility for safe walking, but it also draws attention to features in your yard, such as plants, water features, and other attractive landscaping and hardscaping.
Also, hanging lights like string lights in every corner of your backyard will open up the space.
Hardscapes
Beautifully designed hardscapes can improve both the form and function of your backyard. Hardscapes include concrete and stone patios, walkways, paths, gardens, borders, planters, pillars, stairs, retaining walls, waterfalls, and other luxury stone features.
Poolscaping
Upgrading the area around your pool will make a huge difference in the look and feel of your backyard. So, consider landscaping designs that will complement and enhance your pool, such as fencing, decking, gardens, trees, shrubs, flowers, seating, and lighting.
Privacy Wall
A privacy wall or fence can be both an attractive backdrop to your outdoor living space and a functional wall that gives you the extra privacy you need to enjoy your backyard to the fullest.
Consider a statement wall that is the focal point of an area and wall materials that will complement your backyard design, such as bamboo, concrete, stone, or luxury wooden panels.
Take Your Backyard to The Next Level with A Professional Landscape Designer
With these ideas in mind, work with a professional landscape designer to make your dream a reality. A professional landscape designer will work with your landscaping wants, needs, and space to give you the ideal backyard upgrade so you can make the most of your time outdoors with these luxury backyard features.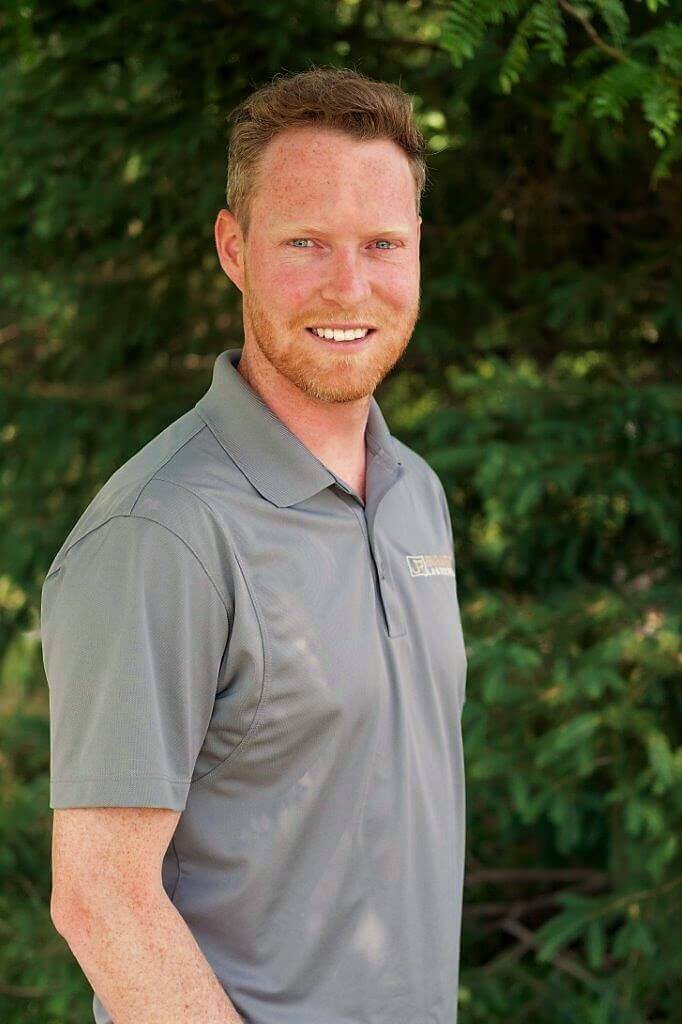 In 2008, following a successful career as a member of the Canadian Alpine Ski Team, Jonathan Robert stepped into the landscaping industry, starting Jonathan Robert Landscapes. In the years since he's quickly earned a reputation for high-quality work with creative designs and has been recognized in several industry-leading publications. Jonathan's always got an eye on innovation and is always looking ahead to see what's on the horizon in the industry. He works hard to stay on top of current guidelines, practices, and regulations. Jonathan is a member of Landscape Ontario, the International Concrete Paving Industry (ICPI), Canadian Nursery Landscape Association (CNLA), and is a Tech-Pro contractor.